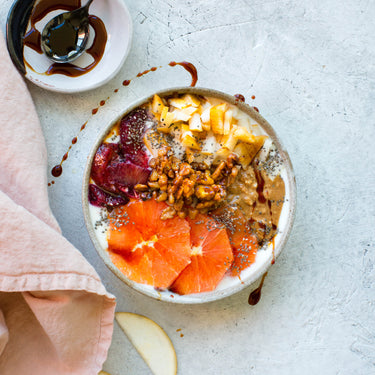 The Best Healthy Chia Pudding
Chia pudding is like tapioca pudding's healthy cousin. It has that delicious creamy bubbly texture yet also packs a nutritious punch. Chia seeds are super at lowering blood sugar levels and creating more insulin sensitivity. Pair this pudding with some nuts and vitamin-rich fruits and you have yourself a super breakfast, snack or dessert!
Ingredients
1 cup unsweetened almond milk
1 cup unsweetened greek yogurt
2 tbsp date syrup
1 tsp vanilla extract
pinch of kosher salt
1/4 cup chia seeds, divided in half - into 1/8 cup and 1/8 cup
Whisk almond milk, greek yogurt, date syrup, vanilla extract, and pinch of kosher salt together gently. Whisk in 1/8 cup chia seeds and let stand at room temperature for 30 minutes. Add in remaining 1/8 cup of chia seeds and gently whisk again until seeds are evenly distributed. Cover and refrigerate overnight.
Top with your favorite seasonal toppings - pictured here are slices of blood orange and cara cara orange, crunchy almond butter (chia seed pudding tastes great when paired with lots of juicy and crunchy texture!),
date syrup candied walnuts
, and chopped apples.