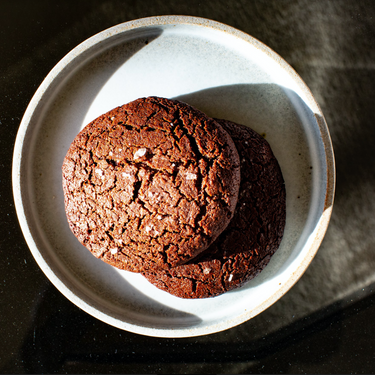 Fudgy Chocolate Cookies
Everyone needs a go-to chocolate cookie, so consider this our gift to you. Gooey and thick, this rich chocolate cookie is grain-free, vegan, and refined sugar free, only sweetened with just date syrup. It's the quintessential paleo cookie recipe, and one you'll make on repeat. We'd recommend it with a glass of cold nut milk - tonight.
Ingredients
1 cup almond butter (only 100% works here, with no added oils, etc.)
3/4 cup just date syrup
1 tsp baking soda
1/2 tsp cinnamon
1/4 cup cacao powder
2 tbsp olive oil
1 tsp vanilla extract
6 tbsp almond flour
1/2 cup Just Date Chocolate Chips
Preheat the oven to 350 and line a tray with parchment or a silicone baking sheet
Stir 1 cup almond butter with date syrup until well mixed.
Add the cinnamon, vanilla extract, and then cacao, stirring well after each ingredient.
Add olive oil next
Mix the baking soda and almond flour together in a small bowl, then add the mixture to the wet mixture slowly, mixing well after each tablespoon. Mix in the chocolate chips to make Double Chocolate Cookies!
Roll into balls and flatten into discs on a silicone baking sheet. Sprinkle with large flake sea salt.
Bake for 13-15 minutes, or until the edges are browning, remove, and let cool before diving in!