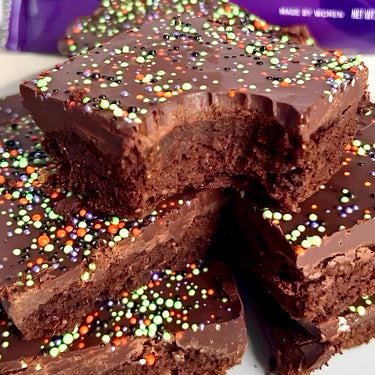 High Protein Cosmic Brownies
A nostalgic childhood treat made into a high protein healthy snack? Sign me up! 
Colleen at @colleenshealthylife whipped up these delicious brownies with a melty ganache center made from our new dark chocolate chips! 
"These brownies are gluten, dairy, and refined sugar-free! The creamy ganache layer is thanks to Just Date's new date-sweetened chocolate chips! That's right, the benefits of medjool dates; potassium, magnesium, fiber, and antioxidants, in chocolate form! 🙌🏻"
Ingredients
1 cup almond flour
1/3 cup protein powder
2 tbsp cacao powder
1 tsp baking powder
1/2 tsp salt
1/3 cup melted coconut oil
2 eggs
2/3 cup organic coconut sugar
1 tsp pure vanilla extract
Ganache Layer
3/4 cup Just Date Date-Sweetened Chocolate Chips
Combine brownie ingredients together. Pour into 8x8 pan lined with parchment paper. Bake at 350 for 20 minutes. Allow to cool completely.
Make your ganache by melting chocolate chips in 30 second intervals, stirring in between, until smooth and creamy. Top brownies with chocolate ganache and natural sprinkles. Refrigerate until ganache has set (at least an hour) Slice and enjoy!