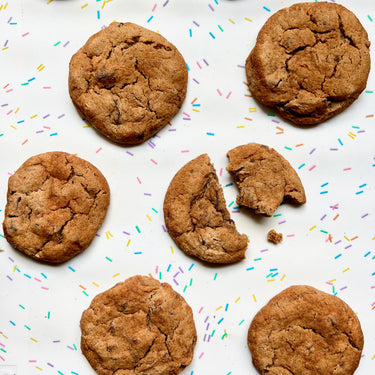 Snickerdoodle with Chocolate Chips
If you thought snickerdoodles couldn't get any more delicious, think again! Our test kitchen has been working hard to create a monstrous new creation that will blow your taste buds away: the Snickerdoodle with Dark Chocolate Chips. These cookies are the perfect combination of soft and chewy with a dramatic kick of cinnamon and caramelly goodness that will leave you craving more. We have to hide them from our own children just to get a small morsel, and we might never go back to making snickerdoodles the old way again!
Ingredients
1 cup unsalted butter, softened (use Miyokos for dairy-free/vegan.)
1 ½ cups Just Date Organic Date Sugar
3 large eggs (or use Bob's Red Mill gluten-free egg replacer)
2 tsp pure vanilla extract
2 1/4 cups gluten-free all-purpose flour with xanthan gum (we like Bobs Red Mill 1:1 gluten-free)
2 tsp cream of tartar (If you don't have the cream of tartar, you can substitute 2 teaspoons baking powder for BOTH the cream of tartar and the baking soda)
1 tsp baking soda
¼ tsp salt
1 cup dark chocolate chips
Cinnamon-Sugar Mixture
¼ cup Organic Date Sugar
2 tsp Burlap and Barrel Royal Cinnamon
Preheat oven to 350°F. In a large mixing bowl with a whisk attachment, cream the softened unsalted butter and date sugar until light and fluffy. Be patient. This will happen, and the color will become a light sandy color.
Scrape the sides of the bowl and add in the eggs (or egg replacer) one at a time and incorporate before adding the next egg. Then add pure vanilla extract, and cream until smooth.
Add the cream of tartar, baking soda, and salt, and mix until combined.
Add in half of the gluten-free flour and mix until just combined. Add in the other half of the gluten-free flour and mix until the dough forms. Fold in the chocolate chips if using. The dough will be very sticky.
In a small bowl, stir together the ¼ cup of date sugar and ground cinnamon.
Scoop out the cookie dough using a greased 1 ½ teaspoon cookie scoop. Roll the dough ball into the cinnamon sugar mixture and coat well.
Place the cookie dough on a silicon mat or parchment paper-lined baking sheet 1-2 inches apart.
Flatten the cookie dough ball by pressing it down in the center of the ball.
Bake on the middle rack for 10-12 minutes for softer cookies and 14-16 minutes for crispier cookies. The cookies with the egg replacer need to bake for 12 minutes. Start lower; all ovens are different. Look for large cracks before removing from the oven.
Allow the cookies to cool on the baking sheet for several minutes before removing them. Store the cookies in an air-tight container.