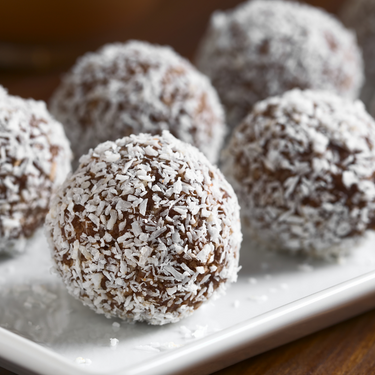 No-Bake Brownie Energy Bites
Our favorite BROWNIE BITES for each and every day – made with whole foods and our OG organic date syrup, these decadent chocolate bites (that taste like the fudgy interior of a walnut brownie) leave you feeling energetic and satisfied. These are a Just Date HQ favorite – something to be enjoyed with friends, partners, and coworkers at any time of day!
Ingredients
1 cup walnuts
6 medjool dates
1/3 cup Seed & Mill Tahini
1/4 cup Just Date Syrup
1/4 cup cocoa powder
3/4 tsp kosher salt
2-3 tbsp hemp seeds
1/4 cup shredded coconut
Soften 6 medjool dates in very hot water for 15 minutes. Blend walnuts in a food processor or blender until a coarse powder forms. Blend in the cacao, then the dates, tahini, date syrup and kosher salt. Form into balls and place in the fridge until set. Roll in hemp seeds and shredded coconut. Store in fridge or freezer.