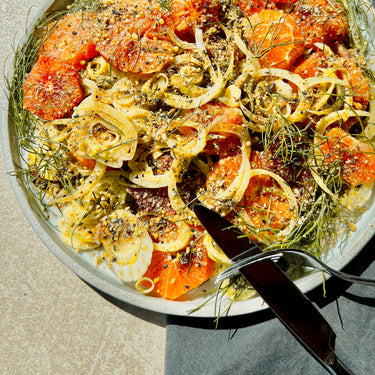 Orange and Fennel Salad with Dukkah
This salad is a tantalizing bright and quick dish to whip up in minutes and impress anyone in your family or crew. The different oranges create some interest and the fennel adds crunch. The Dukkah is a gorgeous replacement for croutons or nut and seed mixture and brings everything together in a masterful way. And if you already have your Dukkah - all you need is fennel, oranges, Just Pomegranate Syrup and olive oil!
Ingredients
3-4 cara cara oranges
3-4 blood oranges
2 medium bulbs of fennel and their fronds
3 tbsp olive oil
3 tbsp Just Pomegranate Syrup
flaky salt
2-4 tbsp Superfood Dukkah Spice Blend
Wash your produce. Slice the fennel bulbs thinly and toss with the juice of one naval orange and let soak. Slice the peels off the oranges and slice them into 1/4 inch rounds. Whisk together Just Pomegranate Syrup, olive oil, and a bit of salt for the dressing. Arrange half the fennel and orange slices on the plate in one layer, sprinkle some Dukkah and fennel fronds on top and then arrange the remaining fennel and oranges. Pour over the dressing, the orange juice from the fennel and sprinkle more Dukkah and fennel fronds over the salad. Serve immediately.