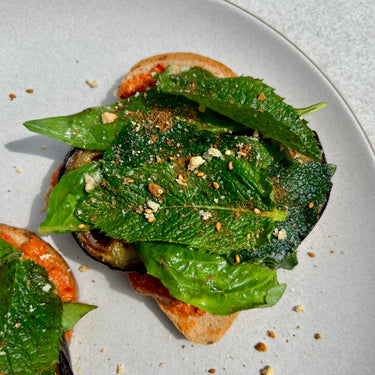 Roasted Eggplant & Muhummara Sandwich with Lemon Herb Salad
This open faced sandwich is exceptional. That's pretty much all we need to say about it. It was adapted from a dish by the Alvarado Street Bakery and we couldn't believe it came together as well as it did in our own kitchen. The Muhummara is by our friend Shane of SFeatsinSF and provides a gorgeous zingy base for this sandwich. The grilled eggplant provides some meatiness and the herby salad does something magical. We can't wait for you to try it!
Ingredients
1 medium eggplant
drizzle of olive oil
several sprigs of fresh basil
several sprigs of fresh mint
1 lemon
1 tsp (or to taste) of Just Pomegranate Syrup
sea salt
aleppo pepper
toast of your choice, sourdough or gluten-free would be our pick
a fresh batch of Muhummara spread
Slice the eggplant and salt the medallions and set aside for 15-30 minutes. Make your toast and the Muhummara spread. Pat the eggplant dry and pan fry the medallions over medium heat in a cast-iron skillet with some olive oil. Once they are browned around the edges and drooping in the center, remove from heat and place on paper towel lined plate.
Next rinse the herbs and place in a bowl. We loved just the basil and mint but you can also add a bit of fresh parsley and dill if you have them. Squeeze the juice of one lemon over the herbs and sprinkle with a bit of flaky sea salt. Toss together with a drizzle of Just Pomegranate Syrup.
Spread a generous helping of Muhammara on your toast, layer on two pieces of eggplant and then top with the herby lemon salad. Garnish with more bread crumbs (from the Muhammara) and aleppo pepper. Devour immediately.