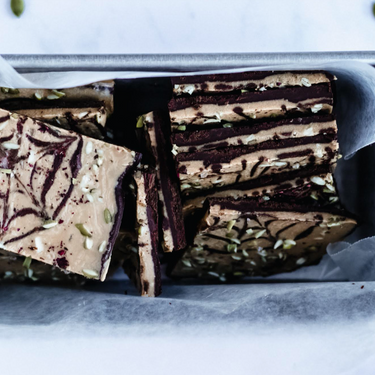 Salted Caramel Chocolate Bark with Rose
This easy vegan, paleo chocolate bark is the perfect fast treat. Dark chocolate swirled with salted caramel and rose petals and rose water - it's elegant, yet a simple dessert year round. This salted caramel bark has tahini and Just Date Syrup, along with other pantry staples.
Ingredients
Bottom chocolate layer:
6oz unsweetened chocolate
2-3 drops of Nielssen-Massey rose water or rose essence
Salted caramel layer:
1/4 cup tahini
1/4 cup cashew butter
1/4 cup coconut oil
1/4 tsp sea salt
Spider web patterning:
4 tbsp cacao
3 tbsp melted coconut oil
Optional Toppings:
2 tbsp chopped pumpkin seeds
1/2 tbsp crushed rose petals
Sea Salt
Method:
Bottom Chocolate layer: Melt the chocolate using the double broiler method. Make sure the water in the bottom container doesn't touch the top container (this can burn the chocolate) and bring it to a simmer. Add the chocolate and allow it to melt. When almost all the chocolate is melted, add the date syrup and rose water*. Whisk until combined and fully melted. Pour it on a parchment paper covered baking sheet and set in the fridge for 15-20 minutes.
Salted caramel layer: Rinse the double broiler and bring the water back to a simmer. To the top container, add the tahini, cashew butter, coconut oil, date syrup and sea salt. Whisk until fully combined and pour it on top of the lightly set chocolate. Take it back to the fridge for 10 minutes until just slightly set.
Spider web layer: Whisk together all the ingredients under "Spider webs". Pour it into a piping bag and make spider webs.**
Top with chopped pumpkin seeds, sea salt, and crushed rose petals and set it back in the refrigerator for at least an hour. Break it into bark pieces and enjoy!
Notes:
* Make sure your rose water is concentrated (like an essence) and not diluted because that could seize the chocolate
** To make a spider web, start with a small dot and make 2-3 concentric circles around it. Take a toothpick and drag it from the center dot until you reach the outermost circle and repeat this 5 more times in different directions until you get a spider web!