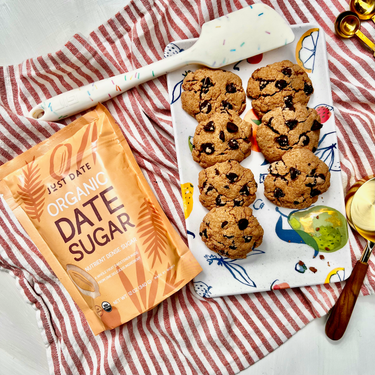 Soft & Easy Chocolate Chip Cookies
These came through our test kitchen from our beloved operations director, Madeline and once we all tried them we couldn't stop making them on a rotation. I have practically memorized the recipe and have tried it without chocolate, with almonds and almond extract, with pomegranate syrup instead of date syrup and with a dollop of jam. I've made them big and I've made mini ones (bake for 7-8 minutes for 1.5 inch cookies). These are versatile, a crowd pleaser, chewy, soft and satisfying - everything a cookie should be. And the best part is that they are filled with fiber and nutrients without compromising on taste!
Ingredients
¾ cup AP flour or GF 1:1 flour
¾ cup Just Date Sugar
1 stick butter, melted
½ tsp kosher salt
¼ tsp baking soda
1 heaping tbsp Just Date Syrup
1 tsp vanilla extract
½ cup date sweetened chocolate chips
Preheat oven to 350º F. In a large mixing bowl, whisk together flour, baking soda and salt and set aside.
In a small saucepan, add date sugar to melted butter and stir to combine. Mix in date syrup and vanilla extract to the sugar and butter mixture. Fold this mixture into the dry ingredients to form a stiff dough. Mix in chocolate chips.
Portion cookie dough into rounded tablespoon sized balls and flatten on a parchment lined baking sheet. Bake for 10 mins, rotating halfway through. Cool on a rack and enjoy!
created by Madeline, our operations magician!