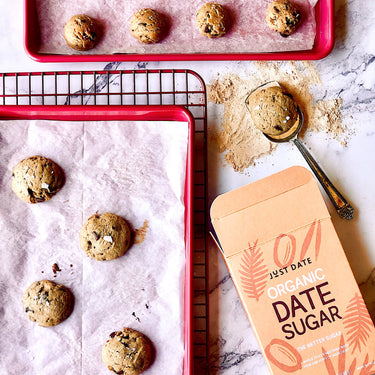 Soft & Salted Chocolate Chip Cookies
A gift to us from pastry chef Bebe Carminito, we wanted to give you a classic chocolate chip cookie recipe to use with your new Just Date Sugar!
"I love this cookie recipe! When I was a kiddo, my mom would take us to this bakery for chocolate chip cookies, they were delicate, soft and resembled a little bite of cake. I have written a recipe for this cookie using Just Date Sugar and depending on your preference, you can add nuts, use your favorite chocolate chip and or add a little flaky salt. They are best eaten the day of but will last up to 2 days and be sure to make the dough one day ahead… Can also be scooped and ready to go kept in a container stored in the fridge up to 3 days. They bake in just 7 - 8 minutes so they are a great treat to always have on hand to satisfy your sweet tooth. Keep dough scooped in fridge till ready to bake, enjoy!!"
Ingredients
1/2 cup unsalted butter room temperature
3/4 cup Just Date Sugar
1 large egg room temperature beaten lightly
1 teaspoon vanilla
1 cup all purpose flour
1/4 t. baking soda
1/4 t. baking powder
1/2 t. Kosher salt
1/2 cup chocolate chips (we recommend Hu no added sugar chocolate chips or Raaka no refined sugar chocolate chips)
Flaky salt to finish ~ optional
In a stand mixer with a paddle attachment cream together the butter and Just Date Sugar for about 3 minutes. Scrape down the sides of bowl and add the egg and vanilla, beating for 1 more minute till homogeneous.
In a medium bowl, whisk your dry ingredients including flour, baking soda, baking powder and salt.
Slowly with the mixer on low speed, add the dry ingredients and mix until no flour streaks remain (approximately 1 minute). Remove bowl from mixer and fold in chocolate chips.
Gather dough into a disc and refrigerate overnight or up to 3 days. When ready to bake, line sheet pans with parchment and preheat oven to 325. Remove dough from refrigerator and when at room temperature, use a #40 scoop about .85 oz. and place dough balls on a parchment lined sheet pan.
Very gingerly using the palm of your hand, press them down ever so slightly. If desired, sprinkle with a little flaky salt and bake for 7 to 8 minutes. Cool on sheet pans for 10 minutes and then remove placing on wire racks to cool completely. Store cookies in an airtight container up to 2 days.
Bebe Carminito @champagneandcookies