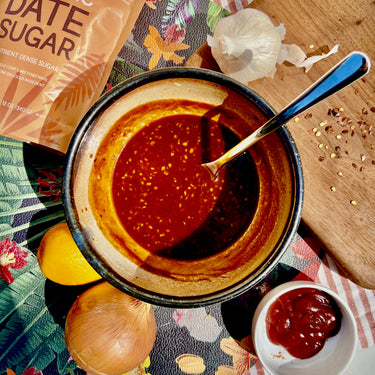 Sweet & Tangy Vegan Filipino BBQ Sauce
Experience the delectable and full-flavored Filipino Barbecue, now veganized and free of refined sugar! This recipe achieves an ideal harmony of tanginess, sweetness, and savoriness, making it an excellent choice for any gathering. Not only is it easy to prepare, but it also has the power to amaze anyone who tastes it, regardless of being vegan or not!
Ingredients
1/4 cup soy sauce
1/4 cup Low-Sugar Banana Ketchup (or regular fruit-sweetened ketchup)
2 heaping tbsp minced garlic
3 heaping tbsp Just Date Sugar
1 tbsp calamansi juice or lemon juice
1 tbsp white vinegar
1/2 tablespoon vegan oyster sauce
1/2 tablespoon sesame oil
1/2 teaspoon red pepper flakes
1/4 heaping teaspoon ground black pepper
To prepare the sauce, mix all ingredients in a bowl and enjoy as a marinade and sauce for grilling!