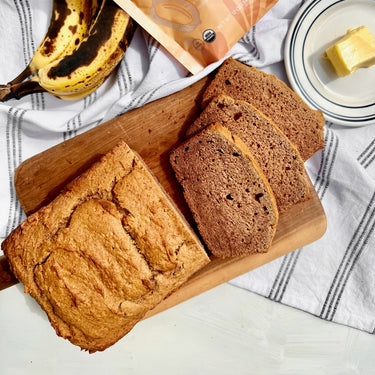 The Just Date Banana Bread; Gluten-free, Refined Sugar-Free, Dairy-free
Discover the ultimate guilt-free indulgence with our gluten-free banana bread recipe. Made with wholesome ingredients and completely free from gluten and refined sugar, this healthy banana bread is the perfect choice for a nutritious breakfast, snack, or dessert. And it's often our snack of choice in the Just date kitchens! Indulge in a slice of pure comfort knowing that each bite is packed with delicious and flavorful goodness. Our family-friendly treat is easy to make, and our step-by-step instructions ensure a successful baking experience every time. So satisfy your cravings with this delectable and health-conscious banana bread recipe that caters to gluten-free enthusiasts and guarantees a delightful, guilt-free indulgence.
Ingredients
1/2 cup butter or vegan butter like Miyokos, softened
2 eggs, beaten
3 bananas, smushed into a pudding-like puree
1.5 cups almond flour (This recipe works well with gluten-free 1:1 and AP flour, as well)
1 tsp baking soda
1/2 tsp salt
1/2 tsp vanilla
Optional: 1/2 cup chocolate chips (we recommend chopping up a date-sweetened chocolate bar, like from
Spring & Mulberry
) or walnuts
To begin, preheat your oven to 350 degrees F. Next, in a large mixing bowl, cream together the butter and date sugar until smooth and creamy. Be patient here. The butter and sugar will be crumbly at first but will become creamy and a light sand color after a minute or so. Once the butter and date sugar are well combined, add the eggs and smushed bananas to the mixture, and stir until everything is evenly incorporated but still fluffy.
In a separate bowl, whisk together the flour, baking soda, and salt. Then, gradually add the dry ingredients to the wet mixture, stirring until the batter is smooth. Finally, add the vanilla extract to the batter and mix well.
Grease and flour a loaf baking pan, and then pour the batter into the prepared pan.
Bake at 350 degrees F for 55 minutes or until a toothpick inserted into the center of the bread comes out clean. Remove the bread from the oven and let it cool on a wire rack for at least 10-15 minutes before slicing and serving. Enjoy!