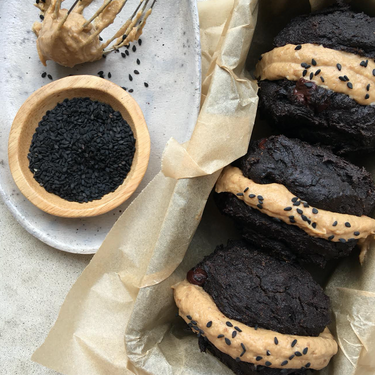 Vegan Black Sesame Whoopie Pies with Pumpkin "Dulce de Leche" Frosting
These soft and chewy gluten-free and vegan black sesame whoopee pies are nostalgic and the whole family will love them. With a naturally sweetened pumpkin dulce de leche frosted filling, they're colorful for Halloween, but delicious for any occasion. Lightly sweet, fun to eat and make, they're a Just Date Syrup holiday cookie you'll keep coming back to.
Ingredients
Black Sesame Cookies:
Dry:
1/2 cup buckwheat flour
1/4 cup sorghum flour
1/4 cup almond flour
1/4 cup cacao powder
1/2 tsp baking powder
1/4 tsp baking soda
1 tbsp flax
1/8 tsp salt

Wet:
1 mashed banana
1/4 cup Just Date Syrup
1/4 cup black tahini
1 tsp vanilla
1/4 cup almond milk
1 tbsp black sesame seeds
1/4 cup Just Date Chocolate Chips

Cream Cheese Frosting:
1/3 cup pumpkin purée
1/4 cup cashew or almond milk
1 tsp pumpkin pie spice
1/2 cup packed, pitted medjool dates
1 tsp vanilla
6-oz vegan cream cheese (such as Kite Hill or Spero)
2 tbsp Just date syrup
To make the cookies, combine dry ingredients in one bowl and wet ingredients in another. Add the wet mixture into the dry and stir until incorporated. Add the black sesame seeds and chocolate chips and fold into the batter. Preheat oven to 350°F. Scoop about 2 tbsp batter for each cookie onto a parchment or silpat-lined baking sheet. You can use your fingers to smooth out the tops and sides (they won't really spread when baking.) The batter should give you 10 cookies. Bake for 15 minutes, then remove from oven and move cookies to a cooling rack.

Meanwhile, make your frosting. Heat the pumpkin purée, milk, and pumpkin pie spice in a small saucepan on medium heat for about 5 minutes. You can skip this step, but it allows the spices to become more fragrant. Let this mixture cool to room temperature. Once cooled, place the dates, pumpkin mixture, and remaining ingredients into a food processor and blend until smooth and silky. Store the frosting in the fridge to stiffen up a bit until your cookies are cooled and ready to be frosted.

To assemble, simply pipe or spread desired amount of frosting onto flat side of cookie, then sandwich another cookie on top. Or just frost individually for maximum frosting coverage. The cookies taste even better the next day!
Created and photographed by Michal Sierens @MichalSie