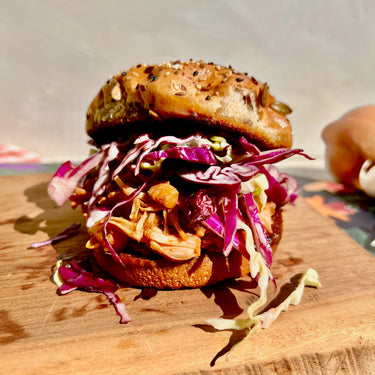 Vegan Filipino Jackfruit Pulled Pork BBQ Sandwich
This vegan creation will have your meat eating friends coming over to your side of the picnic table. The sweet and tangy Filipino style BBQ sauce is quick to make, thick and glossy and great with just about any grilled item. However, the jackfruit pulled pork is surprisingly nuanced and savory and has the perfect texture for a sandwich.
Ingredients
Filipino-Style BBQ Sauce
1/4 cup soy sauce
1/4 cup Low-Sugar Banana Ketchup (or regular fruit-sweetened ketchup)
2 heaping tbsp minced garlic
3 heaping tbsp Just Date Sugar
1 tbsp calamansi juice or lemon juice
1 tbsp white vinegar
1/2 tablespoon vegan oyster sauce
1/2 tablespoon sesame oil
1/2 teaspoon red pepper flakes
1/4 heaping teaspoon ground black pepper
Jackfruit Pulled Pork
(2) 20-ounce cans young green jackfruit, in water or brine
1 tbsp olive oil
1 small sweet onion, diced
1 cup Filipino BBQ Sauce
1/2 cup water
Sandwich buns
To prepare the sauce, mix all ingredients in a bowl and set aside.
Empty the cans of jackfruit and rinse thoroughly. If the jackfruit was packed in brine, make sure to rinse it extra well. Set the jackfruit aside.
In a large skillet, heat the olive oil over medium heat. Add the onion and cook until translucent, about 3-4 minutes.
Add the rinsed jackfruit, BBQ sauce, and 1/2 cup of water to the skillet. Stir the ingredients well to combine them, then cover the skillet and let it simmer on low-medium heat for 20 minutes. Stir occasionally.
After 20 minutes, remove the lid and use two forks to mash the jackfruit, creating a shredded texture similar to pulled pork.
To finish cooking, increase the heat to high and cook for an additional 10 minutes, stirring frequently. This step helps to reduce moisture and allows some parts of the jackfruit to become slightly blackened, which enhances the flavor.
Once done, remove the skillet from the heat. Serve the jackfruit on buns along with vegan mayonnaise-forward coleslaw, and savor the dish!